Below, you will find booking Procedure - PLEASE NOTE* You can only book the given current camp.
2022 Camp schedule:
> Spring Break - 2x 4-day weeks: Week 1 = Monday 11th - Thursday 14th April / Week 2 = Tuesday 19th - Friday 22nd April
> May Whit Half Term 1x 5-day week = Monday 30th May - Friday 3rd June 2022
> Summer Holidays 3x 5 day weeks: Week 1 = Monday 25th - Friday 29th July / Week 2 = Monday 1st - Friday 5th August / Week 3 = Monday 8th - Friday 12th August 2022
Next Multisport Provision: SPRING BREAK 2022
*Booking live from Sunday 20th March 2022 @ 19:00pm .. Sell out predicted so prompt booking advised .. If you can't select a date, it's unfortunately fully booked .. get in touch and ask us to pop you on the cancellation list.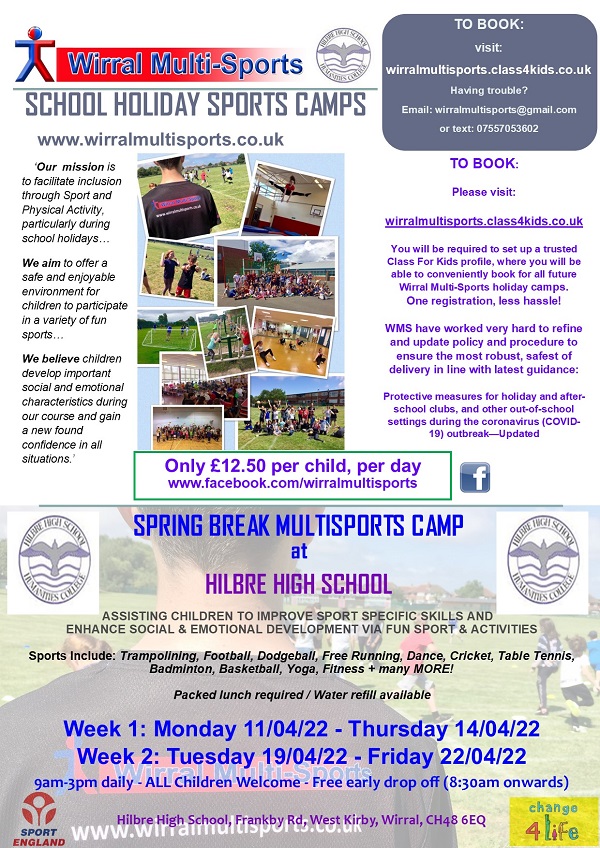 1) (If not already registered) Register for free with Class For Kids: Enter Email address, set
password. You no longer need to register every course! Register once,

less hassle!
2) Book Camp: select location camp (Hilbre or Mosslands), dates required.
Please read Camp Notes (under main camp details parent page).
3) Select children from your list. If first booking, you're required to input your child details.
Input child details once, is stored and can be used for all future bookings, less hassle!
4) Directed back to original booking request to confirm booking 'order' - ensuring your child
is added to register. Note: Having read Camp Notes, if qualififying for Sibling Discount
(siblings booking on for a full camp), copy and paste the voucher code in the Camp
Notes in to the voucher code box. Full week Sibling Discount then applied prior to
payment.
5) IMPORTANT: Payment page. We discourage card payment on platform as it incurs a
4% + 20p booking fee. Please see 'Alternative Payment' where you can still make BACS
& PayPal payments (details will be visible) that you are used to without fee.
6) Once paid, you will receive email confirmation from Class For Kids.